Newsletter No. 2 – August 2006
We've been enjoying a fine summer here on the BC coast—thank goodness not nearly as hot as in Central Canada. Summer supposedly being "down time," I try to spend less time at the computer. I have, however, had articles published in the June, July and August issues of Boat Journal—nothing to do with George Dibbern, Quest or Dark Sun, but everything to do with promoting them. I also spend a day a week at the Cortes Craft Co-op Store in Squirrel Cove, Desolation Sound, with my sales pitch for Dark Sun providing an alternative focus for the husbands, as the wives work their way through the felt hats, fragrant soaps and Xmas decorations.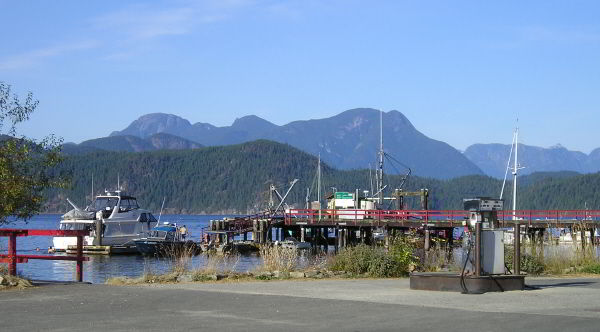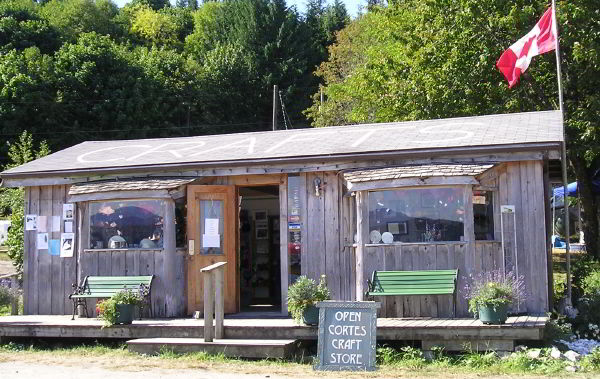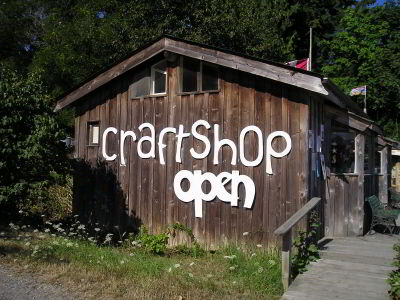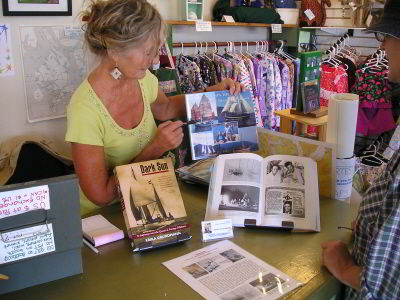 NZ ARTICLE:
Publication of my "After the Book: New Tales and Treasures" article featuring the amazing people and artifacts that have surfaced since the release of Dark Sun, which was scheduled for the August issue of New Zealand Memories, has now been postponed till the October issue. Instead of Father's Day, it'll be out in time for Xmas.
NEW PHOTOGRAPHS:
Guy Greener of Hobart, Tasmania, lover of classic wooden boats, son of Leslie Greener who edited George's unpublished manuscript "Ship Without Port", sent superb photos of George "communing" with his sheep and telling tall tales to skeptical youngsters (Guy himself and Lani Morris) on Woody Island in the early fifties.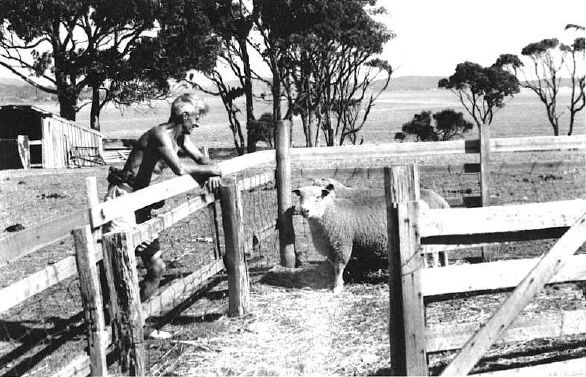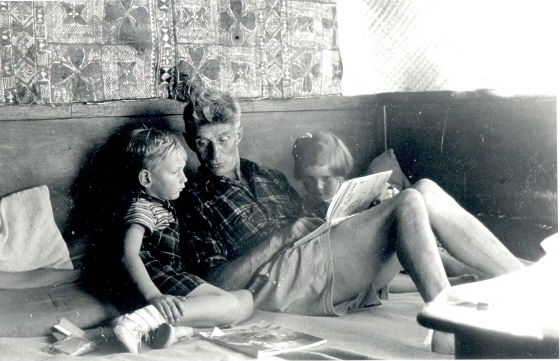 FEEDBACK:
At the end of June I returned home after an off-island shopping trip to find the following phone message from Bonnie Gadless of Tallahassee Florida:
We met on the ferry a couple of years ago and I bought your book. I just wanted to tell you that I loved that book and I couldn't put it down. I'm a world traveller myself and I just really got immersed in his story and I just loved it. The meticulous research that went into it was so obvious. Thank you for writing it – because I really enjoyed it.
Feedback like this—in fact any feedback—really means a lot to me. Thank you to everyone who has taken the trouble to write voluntarily (and that's the operative word, as reviewers are paid to write something!) their reactions to Dark Sun.
WOODEN BOAT FESTIVAL PORT TOWNSEND:
I'll have a space at the Authors' Tent at the Wooden Boat Festival at Port Townsend, WA, 8-10 September 2006. My presentation, with the generic title "Quest, Te Rapunga and George Dibbern" (I plan to talk—and show a PowerPoint slide show—about the research process and the discoveries since the book was published) is scheduled for 1:00 to 2:00 pm. at the Marina Room on Sunday, 10 September. Since we don't have a classic boat to travel in, we've decided to drive down in our "classic" 1971 VW van. Hope to see some of you there.
GEORGE DIBBERN CONTINUES TO INSPIRE:
Mary Gillen a writer, teacher and web programmer living in Mason Neck, VA in a blog entry for June 2006 describes how she is looking forward to travelling to New Zealand—and how Dibbern's book Quest has inspired her. See link to Quest
CITIZENS OF THE SEA:
Years ago I heard about the Citizens of the Sea, but it wasn't until this week that I actually had the privilege of meeting one. Dick Thuillier, whose sailboat (which he built himself in 1975) is aptly named Because, kindly allowed me to copy the statement on the back cover of his passport. As we deal with the encroachment of various forms of industrial aquaculture in the Gulf Islands of British Columbia, it is even more apropos today than when first composed in 1970:
THIS PASSPORT IS THE PROPERTY OF THE BEARER
CITIZENS OF THE SEA
Since the dawn of history, Citizens of the Sea have inhabited the sea and its shores.
The recent attempts of landsmen to control and exploit our seas and oceans compel us to organize in resistance. We have noted with dismay the mess that landsmen have made of their own affairs and wish to avoid the extension of their influence over the seas. By our resistance, we hope to free the Seas for all generations and, perhaps, assist the councils of landsmen to rediscover the honesty, wisdom and sanity that are born of association with the Sea.
The Citizens of the Sea recognize no distinction of race, creed, nationality, age, sex or place of domicile. Citizenship is open to all who regard the sea as their natural home regardless of their place of residence. Possession of this passport constitutes full citizenship – though no dividends can be paid to a citizen unless the registration card is returned to central office.Title:
The whole Sea is our home up to low tide level.
Our title to the Sea and the seabed is that of 'Guardian for all future generations' .
This title is established by ancient tenure. The terms 'Territorial waters', 'International waters', etc. are the creations of landsmen and of comparatively recent origin. These terms have no relevance to the Citizens of the Sea.
We categorically deny and reject the right or power of landsmen to legislate, adjudicate or otherwise control any matters to do with the Sea or its bed – except with our consent.
Policy:
We do not wish to restrict the access of landsmen to the Sea and hope that our citizens will be accorded similar privileges on land.
Our Seas and oceans are open to all for recreation and peaceful trade; BUT we will seek increasingly to restrict the use of the sea for warlike purposes, irresponsible exploitation and dumping.
Finance:
Backed by the total resources of the Sea, the C.O.S. is the wealthiest institution on earth. NO TAXES are levied of the citizens and dividends are paid annually (minimum $50) in oceanic funds to all citizens to assist them in forwarding the aims of the C.O.S. All funds are held in trust.
Constitution:
C.O.S. has a central information office but no other form of government at present. We have observed how badly the democratic process has served the landsmen and prefer to operate as free agents. We observe loyalty: first, to our fellow citizens, second, to other users of the Sea and third, to humanity as a whole.
We reserve the right to take part in such 'international' discussions as are conducted by the United Nations and other bodies, if we feel that our cooperation can be of real benefit.
Our conduct is guided by the dictates of Good Seamanship, Compassion, Common Sense and 'The Golden Rule'.
Untrammelled by the creeds, traditions and futile nationalism of land dwellers, the Citizens of the Sea identify more clearly the problems of Man and his World. With compassion, humour, common sense and limitless wealth we go forward – each in his own way – to find solutions, where land dwellers have feared to look. Design and Concept Copyright © 1970 /Citizens of the Sea
I have been unable to find out more about the C.O.S. and would really appreciate hearing from anyone who can provide additional information.
Have a great autumn/spring!
Erika G.
[For further information check Sea Nation.]