New Zealand Memories
Issue #53 April/May 2005
Dark Sun: Te Rapunga and the Quest of George Dibbern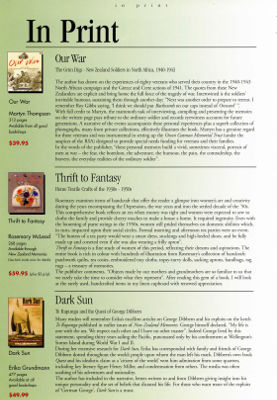 Many readers will remember Erika's excellent articles on George Dibbern and his exploits on the ketch Te Rapunga published in earlier issues of New Zealand Memories. George himself declared, 'My life is one with the sea. We respect each other and I have no other master.' Indeed George lived by this statement, spending thirty years sailing the Pacific, punctuated only by his confinement at Wellington's Somes Island during World War I and II.
During her extensive research for Dark Sun, Erika has corresponded with family and friends of George Dibbern dotted throughout the world; people upon whom the man left his mark. Dibbern's own book Quest and his idealistic claim as a 'citizen of the world' won him admiration from some quarters, including key literary figure Henry Miller, and condemnation from others. The media was often scathing of his adventures and nationality.
The author has included in the narrative, letters written to and from Dibbern giving insight into his unique personality and the set of beliefs that dictated his life. For those who want more of the exploits of 'German George', Dark Sun is a must.
More Reviews: