Dark Sun: Te Rapunga and the Quest of George Dibbern
by
Erika Grundmann
You breathe a spirit as warm and large as Walt Whitman's. I salute you as one of the good, Honest men of the earth, one we shall always be proud of.

Henry Miller, letter to George Dibbern, 1945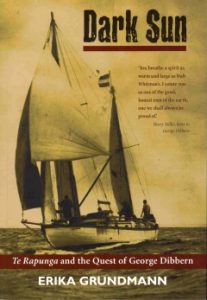 Dark Sun recounts the life of German-born Georg Johann Dibbern (1889-1962)—the controversial, free-spirited vagabond, visionary sailor-philosopher, author of Quest, friend of American writer Henry Miller—and of the extraordinary women (like Dibbern ahead of their time) who shared his life.
Refusing to live as a sheep in the herd he defied conventionality and broke free in 1930, with his conscience as his only guide. He took a stand against Nazism, in 1937 creating his own flag, then his own passport which was notarized in San Francisco, USA, in 1940.
With these symbols of his personal beliefs, admired by some, scorned by others, he dared to sail his 32 foot ketch Te Rapunga (the third of eighteen steps in the New Zealand Maori creation myth, that pre-dawn, dark sun moment signifying "longing" or "seeking") in his mission to build bridges of international brotherhood and friendship—not without consequences to himself (including a second internment in New Zealand) and to the family he left behind in Germany.
The result of ten years of research, this absorbing biography of the adventurous author of Quest—the book that won the respect and praise of Henry Miller—reads like a carefully-crafted and spell-binding novel.
He was one of the most unforgettable characters I have ever met … bringing a breath of romance and freedom and unconventionality … He recognized no nationality, flew own self-designed flag and moved wherever the spirit moved him …

Norman Hacking, Vancouver Province, 1962
DARK SUN : Te Rapunga and the Quest of George Dibbern by Erika Grundmann
Published by David Ling Publishing Ltd., Auckland, New Zealand, 2004
ISBN: 0-908990-93-6
Trade Paperback with flaps
6.5? x 9.5? (16.5 cm x 24 cm)
544 pages
915 gms / 2 lbs
Includes:

100 b&w photos
Introduction by author
Lines of Te Rapunga
Map of Dibbern's South Sea travels
References
Index