Quest Dust Jackets
Quest • First Edition • Dust Jacket
W.W. Norton, New York, 1941 Version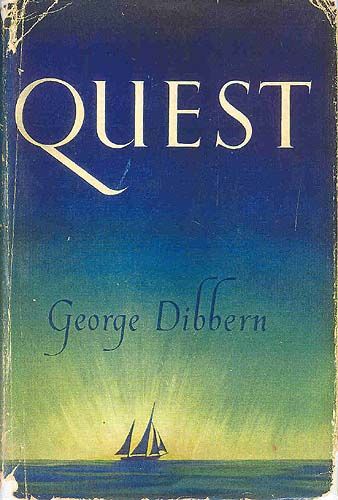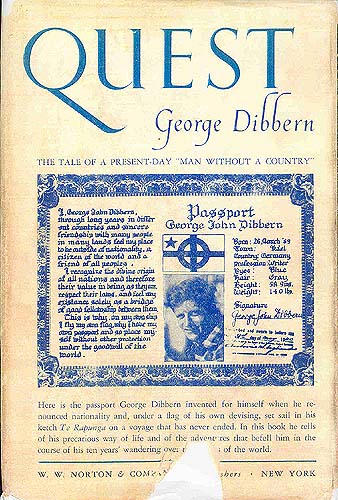 The dust jacket flap blurb:
This book defies conventional analysis. A sea yarn in a sense, a novel in a most unusual sense—the record of a man who, literally, sails under his own flag and with a passport of his own making.

Quest is the record of the ten-year wanderings of a vagabond at sea. George Dibbern left Germany in 1930, one of the countless human by-products of the disintegration of German democracy. He couldn't stay and continue to be an individual—and he had to be an individual or die. He couldn't understand what had happened; life seemed fantastic, with all its values overturned. So, breaking all ties with family and country, he starts his long search under sail on the high seas to find himself again. In his ketch, Te Rapunga, he ventures far—from Kiel to the islands of the Mediterranean, across the Atlantic, to America, to Hawaii, New Zealand and the South Pacific—now caught up by friendships and human encounters in strange ports, now off again on his voyage without end. How his life unfolds as he sails on. and finds the sources of truth and falsehood within himself, is told with a simple sincerity and power which mark the man's growing spiritual stature.

The manuscript for this book came under strange and foreign postage from faraway South Seas. It is something so apart from the usual, so vital and compelling a piece of writing, that to give it to the world of readers seems a real privilege. If you cherish the true things of this world and would share life with a man who has found it on his own terms, Quest will be to you a unique and living experience, a vital and warmly human discovery.
The writer took licence in stating that the manuscript had come under strange and foreign postage from the faraway South Seas. That sounds good, but in fact George Dibbern himself carried the manuscript to New York when he was invited to appear on the radio program We the People, billed as the "Man without a Country" in early 1940. The manuscript was returned to him with suggestions for extensive revisions. Since their visitors permits had expired, George Dibbern revised and Eileen Morris retyped while Te Rapunga sailed and drifted, sailed and drifted, back and forth off the coast of Hawaii for 70 days. They returned to Honolulu briefly to post the revised manuscript back to the publisher in New York before they were forced to leave again and headed to New Zealand in November 1940.
Dibbern's passport being shown on the back of the dust jacket does not relate to the content of Quest, but rather to the fact of his recognizing in Quest that he had outgrown nationhood. Though the concept of the flag is mentioned in Quest, Dibbern's flag was only created in 1937 and first flown on Te Rapunga's arrival in Victoria, British Columbia on July 1, 1937. His passport was conceived and notarized even later, namely May 31, 1940. Quest is the record of Dibbern's experiences during the five years from 1930 and 1935 and not the record of ten years of George Dibbern's wandering at sea under his own flag and with a passport of his own making.
Moreover, the photo on the passport that appeared on the dust jacket is from a photograph taken of George Dibbern and Günter Schramm on their arrival in Auckland in March 1934. Obviously marketing was as important then as it is now: he looks more like a handsome yachtie and it shows him closer to his actual age than the version he most frequently handed out to friends.
The inaccuracies of the dust jacket were subsequently carried over to reviews of Quest.
Quest • First Edition • Dust Jacket
John Lane The Bodley Head, London, 1941 Version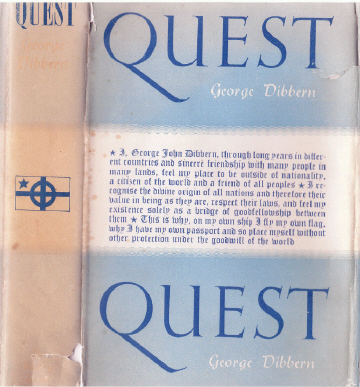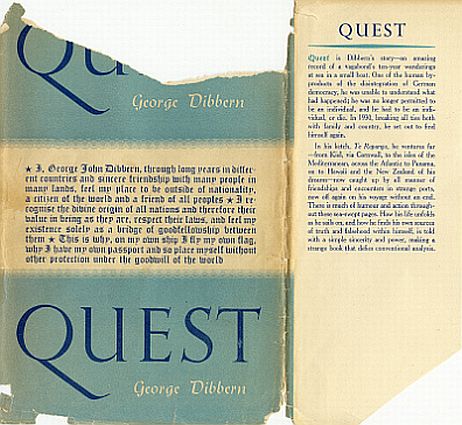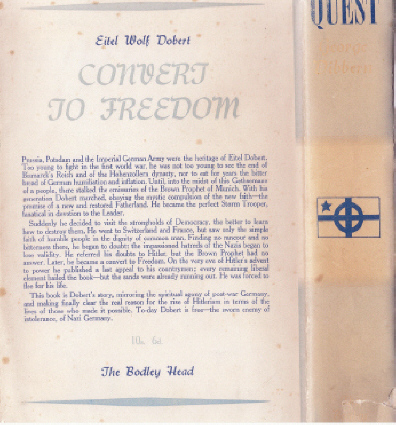 On the front is the text of Dibbern's passport. On the back is a blurb about a book that would presumably also appeal to readers of Quest. Did this mean that a blurb about Quest appeared on the dust jacket of Convert to Freedom by Eitel Wolf Dobert? See newsletters No. 5 – AUGUST 2007 and No. 6 — JANUARY 2008 for more!
Quest • German Edition • Dust Jacket
Claassen Verlag, Hamburg, 1965
George Dibbern died in June 1962. That September Henry Miller visited Elisabeth Dibbern in Munich. He instigated thepublication of Quest in German. The book, translated by Arno Dohm, and for which Miller wrote the foreword, was published in 1965, by Claassen Verlag in Hamburg, now under the umbrella of Ullstein Buchverlage GmbH in Berlin.
The title, Unter eigener Flagge (Under his own flag), caused his wife some concern as Quest deals with the years 1930-1935 and it was only in 1937 that Dibbern sailed under his own flag.
The identical book (physically) was issued with two different dust jackets, with different blurbs on the flaps—designed by two different individuals.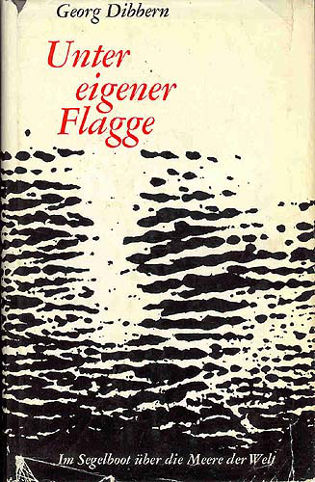 This appears to be the original. The black waves continued to the back which had no text. The line on the bottom states "In a sailboat over the seas of the world."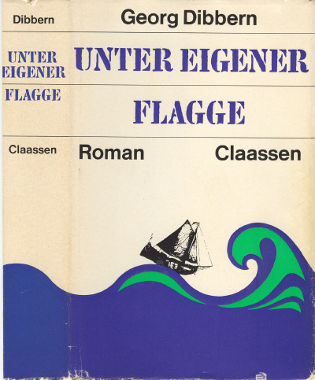 Similarly there was no text on the back of this dust jacket, designed by Holger Koch. Interestingly, the book is billed as a novel.