Newsletter No. 13 — January 2013
It's daunting, but I have a whole year's worth of catching up. And relearning html!
First and foremost I draw your attention to the long-awaited hour-long Südwest Rundfunk radio feature about George Dibbern, titled "My hand, my friend, aloha," prepared by a Berlin print/audio journalist Anette Selg, scheduled to be aired on Sunday, 3 February 2013 at 14:05.
Anette's seven page article in mare no.91, April/May 2012, the prestigious German maritime magazine, was well received and generated new interest in Germany in the life of George Dibbern. Now the radio program will provide a different perspective with live interviews with George's 90 year old daughter, Dr Frauke Ploog, as well as others who were in some way connected with him.
For program details visit the SWR-2 web site. This feature program will be available as a podcast.
Whenever I think I've reached "the end" with regard to the George Dibbern story, some surprise email arrives, or I discover new postings on the internet pertaining to Dibbern. If you're interested in the continuing saga, read on!
In January 2012, I received an email from Raymond Reesby in Auckland. In the early sixties, after reading an article in the Auckland newspaper, he went to the dock to visit Te Rapunga and developed a "quick rapport" with George, who, he found, "had quite a few needs… like many essentials." As Ray wrote:
So we had him in our house in Epson for meals and general R& R and some repairs which included reupholstering many parts of the interior of the vessel whilst it was in port.
It was a delightful albeit brief meeting and I don't think we heard from him after that.
We had a few things in common, in particular, I had an intimate knowledge of Somes Island where George was restrained at his Majesty's pleasure on two occasions I think.
Naturally we were immensely fond of George and his visions and range of "freedoms"
This January, 2013, a similar email arrived from Sara Gatti Heaton in Liverpool, UK, with her recollections:
It was in 1954 when George first breezed into our lives. We lived in Blackmans Bay, 12 miles from Hobart, Tasmania and my mother was waiting in for a vacuum cleaner salesman to call. With him came a suntanned man with sparkly blue eyes and a shock of thick snow white hair. I arrived from school to find my mother engrossed with this energetic and charming stranger. At 12 years old I was also captivated. Not much happened in our little hamlet—his was something to tell my friends indeed!
Over the years, George visited us whenever he was in port but I think there were long gaps when we didnt see him. We sailed in Te Rapunga to stay on Woody but Eileen and Lani were by then back in New Zealand. I never met them but George often spoke wistfully of Lani as he did of his daughters in Germany. He would look so sad then but he was usually high spirited and would interrupt my soulful teenage moods, saying "be happy Little Woman, life is good".
He gave me a brooch—a bird beautifully carved from shell that he made while interned during the war. He also gave me a little bone cross inlaid with shell—I particularly loved this as he said he'd given one to each of his daughters—that made me feel very special indeed. To my mother's consternation he would tell me that when Te Rapunga was ready for a long trip he would take me to sail the high seas.
Then that awful time when a crewman [it was in fact a by-stander who tried to rescue the crew in the Greymouth stranding] died. George lost much of his spirit after that—he was shattered. We were told he [George] died in the midst of greeting a friend in the street. I hope its true. It would've been a very George way to go.
So I never did sail away in the ketch except in my dreams. Though I met a sailor from Liverpool and sailed away with him on a cargo ship instead!
Of Te Rapunga Sara wrote, "I remember the warm red brown wood of the cabin and the smell of coffee made with liquid essence and condensed milk and the yodelling music on old records from Germany."
Her final observations were: "I was lucky that fate brought such a generous, brave, free spirit into our lives and at such an impressionable age in my case. I needed no other heroes. What a wonderful film his life would make, wouldn't it?"
Once again, here is evidence of George's charisma—as years after knowing him, however briefly, people remember him and take the time to write about the experience.
On the same January 2013 day that Sara's email arrived, a message came from Lynn Friesner. Her father had been a librarian at the Forsyth Library at Fort Hays Kansas State College, and had corresponded with Henry Miller. Among her deceased father's papers were an original of the broadsheet Miller sent out to friends and acquaintances to raise money for George after the Greymouth stranding, along with the specially printed envelope "The Story of George Dibbern's 'Quest'." Would I like to have these for the George Dibbern Collection, she asked. Would I?! One day, when I no longer need all my George mateial, it will be housed in some archive of Dibbern's family's choosing. But the way things keep chugging on, that will be a while yet. Nonetheless, I'm very grateful to Lynn for having googled and found me. The postmark on the envelope is amazingly clear!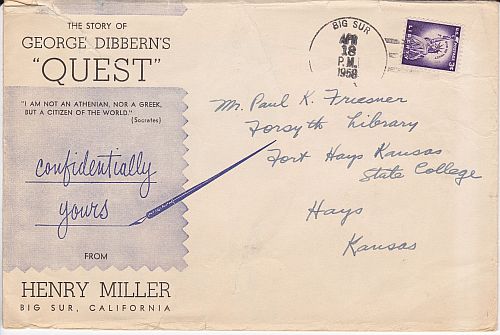 It is said that all good things come in threes. The third item of this January is the release of In the South: Tales of Sail and Yearning by Geoff Heriot (Hobart: Forty Degrees South Publishing, 2012. ISBN 978-0-9873556-4-5). The cover blurb reads:
It begins with two wooden boats:the schooner designed by L. Francis Herreshoff and Bruce Kirby's sharpie ketch.
From these two float tales of then and now – stories of sail and sea in the Australian south, of design and artistic craftsmanship, teacher-mentors, sprung planks, loss and the rescue of ageing boats.
Like an ocean meander, each tale breaks out from the main current, taking the reader on a sinuous journey from New England in the USA to the 'inland sea' of Port Phillip, across Bass Strait to Tasmania and the Southern Ocean.
What is the Dibbern Connection? In Chapter 7, "Homage," Heriot describes Dibbern's acquisition of and residency on Woody (Satellite Island) in Tasmania, his ownership of Partridge Island and his vision for it as a sort of youth camp, when he tried, unsuccessfully, to sell Partridge before he died. The island was left to Dibbern's NZ daughter; when she reached the age of majority, she sold it to Richard and Barbara Ham who had a similar dream of converting it to a sail-training facility. Unfortunately, the plan led to considerable controversy—as Heriot details—and the Hams were denied their vision. The island was later incorporated in the Bruny National Park.
I must also concede, that close to my heart is the chapter "Ripples" which deals with Beryl and Miles Smeeton, their biographer godson Miles Clark and skipper of Trekka John Guzzwell—people we claim as our own here in BC.
Currently a resident of Hobart, Heriot is planning for the official launch of his book to take place at the Australian Wooden Boat Festival in Hobart (8-11 February), the biggest such event in the southern hemisphere. (I sure wish I could be there!)
In the South is also available as an e-book.
As I alluded to at the beginning, Anette Selg's seven page article appeared as "Törn nach Utopie" in mare #91, April/May. I had supplied Anette with contacts, scans of material and photographs, and she did the rest—a brilliant job, I might add. The staff at mare chose which photographs they wanted to use and I then supplied those they requested at what I considered to be humongous files at ~5 MB. But when I saw the final results, I was impressed with how tiny photos came clearly to life on the page. And thank goodness for Dropbox! Otherwise, with the limited wireless service of our island … well you can imagine the time it would have taken to send the images.
On the home front: Rather than let the reprint of Quest by George Dibbern go out of print (yes – in less than four years!) I spent the summer of 2012 working on the second printing. What should have been a simple undertaking, turned out to be somewhat more complicated than I'd anticipated as I switched to a different printing house. Now there are another 500 spanking new copies available for sale, still at the same price. Help spread the word!
I apologize for my year-long silence. There's more I could share, but I think this is enough for one dose of George Dibbern. I'll save the rest for another time—hopefully sooner than next January.
With best wishes for a fabulous 2013,
Erika G.